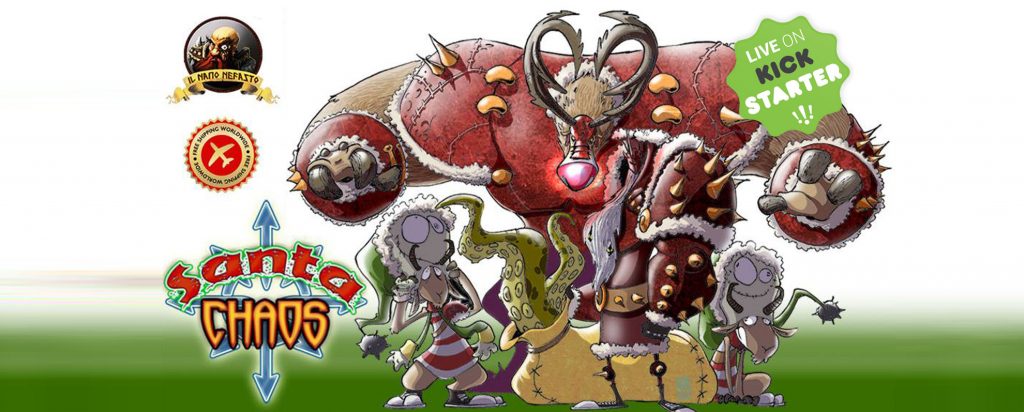 Santa Chaos, the first ever magnetized Team
What's better than the opportunity to custom your chaos team showing off all the gift you earned?
What's better than do it with magnetized parts?
If you agree with me that's the best so this campaign is for you!
The Campaign
This campaign concerning a 16 players team for fantasy football composed by
4 Santa Chaos warriors made in resin with 4 magnets each and provided with 32 mm bases.
1 Reindeer Minotaur made in resin with 4 magnets and provided a 40 mm base.
11 Satyirs made in resin and provided with 32 mm bases.
and the pitch built on ice and painted with the blood of the little elves of Santa Claus. It will be realized by Deep Cut Studio on 34mm squares.
The Early Bird
for the first 24 hours each backer will receive for free Marcof the Boneshacker plus a bed reading pillow
The Raffle
The Story of the Santa Chaos Team
Rudenolf was thinking, a strange novelty, the concept of novelty itself was new. Like obscene streamers, the bowels of the red-clothed fat man adorned his mighty antlers; that old bearded man, his fixations, he had never paused a moment to think of him!
Did he ever stopped to think of red as the color of blood? And that the blood itself could compete to overcome the intensity of his hateful dress?
Those were strange thoughts, they jumped in all directions … like his companions! … those strange little goats on two legs, so similar to the odious little elves with pointy ears, pimps servants flatterers of the fat one, similar not so much in appearance or in the intent, as for the frenzy, the elves to fulfill the silly and repetitive mission of the red fat man, the goat to annihilate everything in their sight!
Rudenolf still had the harmony and the beauty (other new things he had just discovered) of the jumpy ballet in his eyes, a hypnotic dance between the heads of goat and the little elves. The former bound to destroy, the latter desperately trying to escape in panic amids torn bodies, entrails pulled like crimson ribbons to adorn those corpses like badly discarded gift packages… a chaotic motion that contrasted with the immobility of the Four.
Yes, the Four. Rudenolf became aware of them only when they granted him such notion. No matter how but he suddenly opened his eyes and he saw them, cruel simulacra of the red fat one, similar in appearance, but glorious in the aura of their intent!
And there they stood, true bearers of gifts. Gifts for all, not only for the odious and boring good of spirit, whose luminous souls had marked step by step a destiny of slavery for Rudenolf.
The Four threw the fat man dressed in red before his feet (Rudenolf was standing!) bloodless and panting. They said to him: "Play with him!", what is "play" he asked, and one of the Four beckoned him towards the brothers with a goat's head, "They are happy, they have fun" he said, and as he watched the latter wearing the limbs of the elves like obscene vestiges, Rudenolf understood, and as he eviscerated the fat one he was really happy.
"Now it's enough!" the Four said, "now the game changes, it will have rules, our rules!. Now you can dress red clothes too and you can bring to all the gifts that you will consider just … pain, fear, despair, your revenge, your new game "… Rudenolf understood, his nose lit up with a dark red, cruel, not a guide in the night, but a threat, an ominous foreboding, memento of an inevitable promise, joy and expectation yes, but only for Him and his too many buried desires.
"Now enough" shout one of the Four, the one with the wolf helmet, which until now had not spoken, "stop playing with the bowels of the Elves! … you prepare Rudenolf, walk with us, at our side, the Coach is waiting for us!
Look at prototypes
Delivery
There are no delivery fees for the team pledge and the team + pitch pledge. Add-on only pledge starts fro 7 euros, those are delivery fees.
Social Stretch Goals
Unlockables
Optional Add-Ons
Who We Are
My name is Giovanni and in the last 12 years I was behind a lot of miniature games project as miniature painter, conceptist or art director.
This is my first kickstarter launched by my own.
follow me on facebook atwww.facebook.com/ilnanonefasto/
I am Filippo, I'm from Florence and I studied at the arts college in my city. I opened Crosslances a pair of years ago and I sculpted at last 10 blood bowl team in the last 18 month (other than historical miniatures). I won the gold medal in sculpting during Lucca Comics and Games 2016.
Follow my social on http://www.Facebook.com/crosslancesstudio
FAQs
Q: why this team costs more than GW ones and Willi miniatures elfs
A: Unfortunately GW gives you 11 models with double poses, we love our buyers and we are offering a full team with interchangeable parts.
If you are in Europe but out of Spain our team has the same price than Willi's. if you are outside Europe we are cheaper
Risks and challenges
Production will be completely made in our workshop in Italy. If the project raises levels over our expected production times could be longer, anyway we still have agreements with other companies to give away same part of productions so you should not worry.
The estimated delivery date is MAR 2018, but keep in mind this is only an estimate. Also, due to the logistics of international shipping, backers in different regions of the world may receive their rewards sooner than others.
We've done our best to minimize these problems as much as possible, and we are always happy to refund pledges if, for some totally unforeseen reason, the project couldn't be delivered at all. Since it is 90% complete, we don't believe this will happen.
We have no ongoing projects currently other than this so we're 150% on it.
DISCLAMER
Our miniatures and terrain are not official miniatures or terrain for any game listed above and we are in no way affiliated with or endorsed by these games companies, nor do we use any copyrighted material of these games or intend any copyright violation. We too are fans of these games and respectful of intellectual property.
REFUND POLICY
We can refund you within 14 days of the campaign's end, fees included. After that, we have a policy of no questions asked, though that's minus Kickstarter and payment processing fees (which we can't get back from them after 14 days). However, if we've begun packaging your pledge for shipment (usually 4 to 6 weeks before the actual shipping date), no refunds are possible. If a component cannot be delivered AT ALL, we refund that completely, including fees.
All refunds after the 14 days close of the campaign may be processed via Paypal.
This project is being funded in Euro and any refunds processed will be in Euro for the exact amount received in Euro, excluding any applicable fees depending on the time of the refund being processed.
TERMS AND CONDITIONS
By pledging to this project, you acknowledge that the final look, materials and content of the rewards (and the project) are subject to change and may differ substantially from what is presented while the Kickstarter project was active.
Models will be provided unassembled and unpainted.
If you do not log in and confirm your pledge within 8 weeks of our notification via email to confirm your pledge, you agree that we have fulfilled our obligations to you in full for payment or donations received. However, we may, at our discretion, refund or ship your pledge if you contact us and confirm your pledge after the 8 week window has elapsed.
If you confirm your pledge within 8 weeks of our notification via email, you agree that our responsibility to you is to ship your order as entered into our pledge manager system, that title and risk passes to you upon delivery to a common carrier for such shipment, and you are responsible for import duties or any other duties that may be payable to the relevant tax authorities, providing correct address information and ensuring this address is deliverable by normal methods. We regret we are unable to ship to PO Boxes.
If you do not accept these terms, please do not pledge on this project but instead wait for the general release.