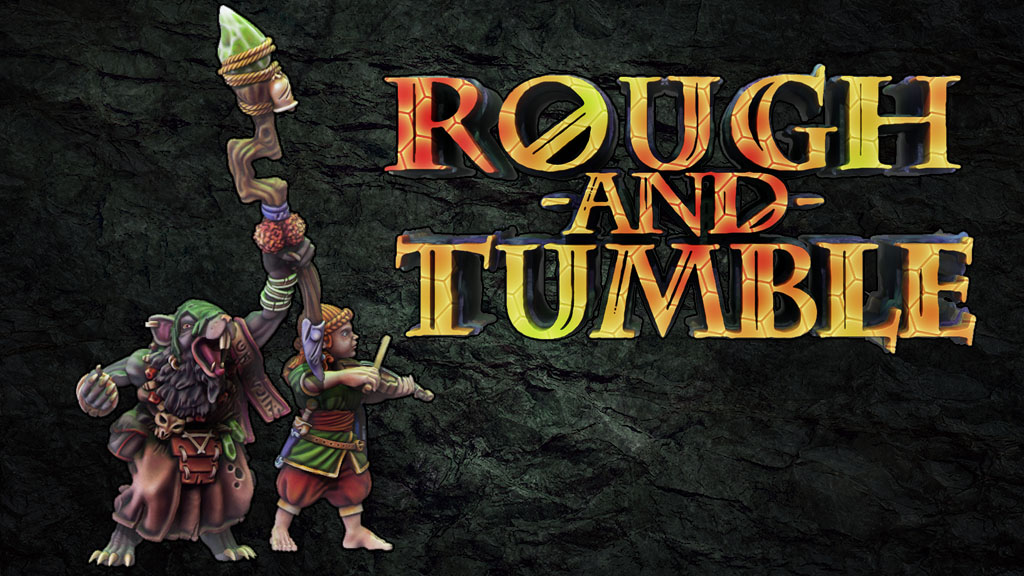 Our new kickstarter campaign!

http://kck.st/3FQsfKN

In February 2016 we started our adventure as 3D sculptors. At that time selling prototypes of 3D miniatures was like madness.
We bet on it and today we can say that we won.
Now, at a distance of 5 years, we want to return to the project which saw us born, ROUGH-AND-TUMBLE, our little board game. Today it reaches the third expansion.
But this time we wanted to do much more! Come and discover everything we have created for you!
Rough-and-Tumble is a chess game with a new and unique game mechanic: there are hexagonal boxes and a little innovation that will make the game unique and intriguing, ideal for one on one challenges to discover who's the best strategist!
You can choose between two teams: Rat men or Halflingss. Each faction will offer different powers and mechanics. What faction you are going to use and which one is the best is entirely up to you!
You can also find our previous teams: amazons and undead, orcs and dwarves , high elves and chaos.
All teams are compatible to be played together.
PLEASE NOTE – This Kickstarter is for digital files (STLs) to make all these items on your own home 3D printer – these are not physical goods **
All models have been presupported (where necessary)
Several printing tests have been carried out to get the Best result possible, and we hope that you will also get an optimal result with your printers.
Cross lances is committed, as always, to solving any problem you can encounter in printing, fixing the files and creating together with you an ever-improving product.
We have created a small video which anticipates the basic rules of the game.
The game is on some basic movement limitations, based on the hexagonal boxes, with the addition of some skills bond to the characters. It will make everything strategic and captivating.
Here you have a preview of the map that you will receive in high resolution. In this way you can print it in the size you prefer.
Here is our new project with our two new teams!
Let's start with Rat team.
The second team is about some little Halflings.
We provide you other gadgets in addition to the essential teams for the four game modes (catching the chicken, controlling point, death match and killing the king).
In addition to the classic teams of our game this time we wanted to do more!
For a long time we have been supporting players of various wargames including ninth age, so we decided to create some additional models to complete a small army suitable for these games.
In the pack of the rat army you can find rat sailor, rat soldiers, rat king, plague priest, rat shaman, jezzail and some additional models which are:
There is a small army for Halflings team too! You can find, in addition to the halfling king, the halfling girl, the halfling soldiers, the halfling sling, the halfling piggyback and the halfling wizard:
Did you think it was over?
Well, no! We want to exaggerate even more!
From these two teams we decided to make fantasy football teams as well.
Let's see them together:
For a better view of the images we have created a link where you can download them in png.
Those who have been following us for some time know that our policy on add ons is very different from what other kickstarters usually offer.
We don't offer items to unlock, but we ask you what you would like to see realized!
So you can leave us a comment asking what you would like to see included in the campaign. We can not do everything but we will do our best and realize the best ideas.
We ask only a small effort in return: share our project to help us grow.
Thank you very much!
These above are the sculptures made and added during the campaign following your suggestions, and we remind you that they are free for pledges " I'll take it all! "
We made some print tests, to make sure of the quality of the sculptures made.
Here you can see how your game might look on the table, of course you can customize it by printing it in any color!
Prints were made with a phrozen sonic mini 4k for the miniatures, and a tevo tornado for the playing field.
New to Kickstarter? Never used Kickstarter before? No problem! The number of people pledging to tabletop games projects is growing all the time making the projects bigger day by day. We're glad to have you on board!
Becoming a backer is very simple. Just follow these steps:
Step 1: Look through the banners at the top right corner of this page and click on the reward level you'd like to receive. You will also be able to insert some add-ons to your rewards.
Step 2: Select which country you live in, then click 'Continue'.
Step 3: Finish filling out your information on the following page.
Step 4: Click 'Pledge' and you're done!
By buying the rights of these files you will be
Allowed to:
– print the 3D miniatures
– print them for friends
– Print in 3D and resell the printed miniature in 3D
-use render-prints and other derivatives of the file for promotional purposes.
-modify the file according to needs and educational purposes
– Modified derivative files may be sold printed in 3D
-use the models inside videogames, indicating their origin -use templates for videos and creative projects
Not allowed:
– Use the files to create molds for mass production
– sell the files for profit
– distribute the file to third parties
-sell the sculptures to shopkeepers and retailers
-grant intellectual rights to third parties
-Authorize third parties to sell the sculptures, in any form whatsoever
-indicate crosslances studio as assistance for sculptures sold to clients.
-use the sculptures for profit in any form not specified in the contract
-sell any intellectual property of crosslances and colalboratories without having signed this contract
any item not specified in the contract shall be deemed unauthorised unless expressly permitted by crosslances, in which case please contact us prior to purchase.
It is asked in addition to cite study crosslances where possible.
For all the remaining details we stick to the common creative.
At the end of the kickstarter you will receive a signed return contract which will summarize these conditions.
These rights are valid forever.
Besides it has been decided to impose a minimum price of 3€ for single miniature printed and resold in 3D.
2€ if it is part of a team/set or bundle.
Crosslances studios is founded by 3 artists and their commons passion for the world of games. Students at the Comics courses in Florence, made by the greebo games sculptures, they approached the world of miniatures. It has actually become a revelant studio in the world of miniatures and digital miniatures prototyping. Our products can be found in many places, we had collaborations with: Labmasu, Megalith Godslayer, Hidden Dreams, Minuteman miniatures, Fireforge , and many others.